Celebrating 20 Years of Sunny Smiles
Sunshrine Day Spa & Salon is an award-winning Day Spa & Salon located in picturesque Lakefield, Ontario. We exist to nurture the Mind, Body & Spirit of our guests as well as the planet we live on. Our products and services are designed with this goal in mind. From our full-service hair salon to our serene spa environment our highly-trained team will take you on a special journey and a relaxing escape from the tasks of everyday life. We invite you to come and experience the Sunshrine difference…
As a member of Green Circle Salons we take pride in ensuring that our waste is properly disposed and recycled responsibly. Through this program we are able to recycle salon waste that would normally be sent to landfill. Excess colour stays out of our water system, foils are cleaned and recycled and hair trimmings are used to make effective tools that help to clean the ocean after an oil spill. We are proud to be  doing our part to ensure a cleaner, greener environment.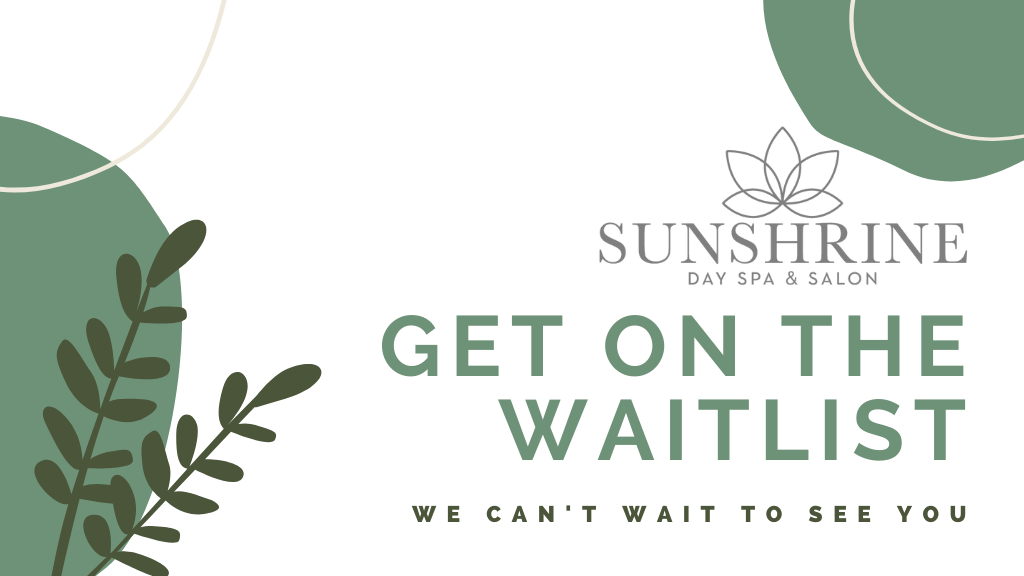 Guest Reviews
Hats off to you ladies as you made our Mother's Day memorable. It's the first time ever that she had no negative comment ! She loved her time there enjoyed the friendly happy atmosphere. The services were all above and beyond her expectations. Well done ! Thank you from all the Ludyka kids

- Tim L.

I first walked into Sunshrine about a year ago and I have yet to have anything but stellar service. From the minute you walk in the door, it is a warm, friendly and relaxing experience. They even handled a last-minute request a few days before Christmas with grace. I would whole heartedly recommend Sunshrine.

- Mary H.

We want to thank you all for the great day we had on Friday. It was a much needed day of pampering and we were treated like Royalty. You are THE BEST at what you do and this day marked a real turning point in our journey to better health and well being. You can see it in those smiles! Continue doing what you are doing..don't ever wonder if you aren't making a difference..you are and we appreciate you! What a great experience! To each and every one of you who we saw there, smiling and happy, know that its the little things you're so attentive to, the little details that make you stand above the rest and make people feel SO.special and important. You do it every time! That says something about your team and your leader. Tammy you're very special. Looking forward to our next visit. Mom hasnt stopped talking about how great it was and hasn't stopped smiling. She said I'm only going to cry happy tears from now on. If I've learned anything from stayng with my parents the past 5 weeks, it's that we know our loved ones best, we need to advocate their health and it's the little happy moments we all share in our every day lives that really matter and make a difference. Cherish those.

- Trish B.

I honestly loved going to this salon! I haven't been to a salon in 8 years.. I got my hair styles done before my wedding, I a surprisingly got my hair cut!!… and I also got my hair done for my wedding. They even did a natural make-up look too!! I will completely reccomend this salon to anyone to whom crosses my path!! The hairstylist was amazing and did exactly what I wanted and even helped me when I couldn't figure it out on my own. All the staff was truly amazing as well.

- Amber C.

Victoria did an amazing revamp with my tired dull hair, she did exactly what I asked for. It's been three years since I have had a haircut. It looks awesome, I'm so pleased with the results..

- Samantha R.

So today was my first experience at this beautiful Salon …and I am Hooked !!! The personal treatment u get is amazing .. I love the atmosphere .. So relaxing … They nailed my color specially for being my first visit … It turned out perfect very happy with the color .also …. While getting my hair shampooed and conditioned the girl put a hot towel on my neck while she gave me a head massage … They also used this conditioner I think it was that while she massaged my head it tingles my scalp like a peppermint conditioner …The staff were all so wonderful and friendly … Everyone deserves an experience like that !!! Can't wait to go back !!!! They also have so much more there … Check it out 

- Nicole M.

The people were very helpful and polite. The massage I got after never having one was great, it made me feel refreshed and ready to tackle life. I would highly recommend this place.

- Helen T.

You know when they say its worth the drive In this case it's soooo true staff really know about all products and they really truly know how to color hair that it looks natural and know how to cut hair to suit the shape of your face very friendly staff and will tell everyone I know about this spa and would return in a heartbeat

- Katrina W.

We were a group of five women celebrating family, relaxation and rejuvenation. Tammy and her staff were awesome. Various treatments included facials, massage, mani-pedis and blow outs. Lunch was included. It was a great way to spend time together. A must do experience in Lakefield.

- Jill Q.

By far best spa I've ever been to, its a beautiful place with beautiful heart warming staff! You leave feeling refreshed, relaxed and gorgeous! I highly recommend this salon to all you ladies out there, and I promise you, you will not be disappointed!

- Eric T.

I have had a wonderful mani pedi And the Spa treatment was a wonderful Christmas treat I received and highly recommend 

😍

😍

- Patsy W.

A glorious facial & eye treatment with Jennifer was just what I needed to deeply relax and unwind. I can't wait to go back!

- Kimberley M.

Always so welcoming and such a relaxing environment. Victoria is amazing and I continue to leave completely satisfied with my look. 😍 Highly recommend.

- Rebecca B.

Our girls day out was excellent! The staff at Sunshrine Day Spa took great care of us. They were professional, social, and provided a pleasant environment. We'll be back!

- Suzette E.

My husband and I visited Sunshrine for couples massages, and we had an incredible experience! The staff were friendly, the spa was very nice and clean, and the private suite upstairs was welcoming and cozy for our massages. We did not have RMT's for our appointment, but the 2 women we had were wonderful and very professional. Unfortunately, I only remember hearing Catherine's name mentioned, so I can't praise the other woman by name. I look forward to visiting this spa again.

- Sarah M.

Another great experience at SunShrine! They care about getting it right. I had my hair cut here on my most recent visit, as well as added some lowlights. My hairdresser listened to what I was looking for and executed it very well. The lowlights they added we're just right. The spa itself is in a nice building in downtown Lakefield with some shops and restaurants nearby of you want to make a day of it.

- Kathryn M.